Please note! You get absolutely invisible communication method using the micro miniature earpiece solution, but the invisibility is achieved by hiding the micro ear unit inside an ear canal.
THE FACT OF YOUR PURCHASE AND USE OF THIS DEVICE MEANS THAT YOU UNDERSTOOD THAT THIS CAN BE POTENTIALLY HARMFUL TO YOUR HEALTH AND THAT YOU USE THE MICRO EARPIECE AT YOUR OWN RISK! IN NO EVENT THE MANUFACTURER WILL BE LIABLE FOR ANY DAMAGES, INCLUDING DAMAGES TO HEALTH.
Please have a look at a human ear anatomy: we are interested here in a so-called outer ear and particularly in an ear canal and an eardrum:
Ear canal length is typically 25 millimetres (about 1 inch) long and it is bordered by the eardrum from inside. The canal is cartilaginous from outside and bone from inside. Bodies can be usually inserted into a soft part of the canal up to 15 millimetres (0.6 inch) deep without any unpleasant feelings. This is quite enough to hide the earpiece in the most cases, at the same time staying distant from the eardrum.
The ear canal is a little bit S-shape, by pulling the ear cochlea up and back, it gets straight.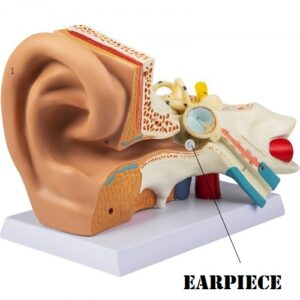 The ear canal width varies in different people. It is generally narrower in women and is wider in men. This is not a problem since we offer different size of ear units with each kit on standard and you can fully hide the micro ear unit inside the clean ear canal in the very most of cases.
The ear canal must be thoroughly cleared with a kind of a cotton wool stick prior to inserting the earpiece. This prevents ear wax (cerumen) pieces from possible pressing the eardrum as well as eases the insert.
ALWAYS INSERT AND REMOVE THE EARPIECE BY YOURSELF. THIS IS OBVIOUSLY THE BEST PROTECTION FROM ANY HARM TO YOUR HEALTH.
Pulling out the earpiece is easy with metal stick of similar diameter, because the ear unit is magnetic. Do not use a spare earpiece to eject the one in your ear: forcible collision of two magnets can damage them as well as can harm your ear. Always handle ear units one by one. Always place each of them in its separate plastic container.