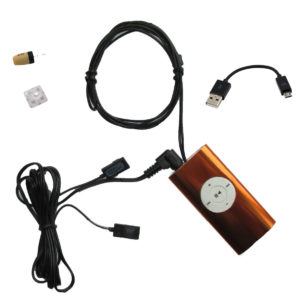 Compact and robust inductive MP3 player, with thinnest inductive neckloop in the world! You can play files from your TF / Micro SD memory card (not included) without anyone knowing.
An inductive MP3 player is a great solution for hidden listening to prerecorded files. MP3 player consists of inductive neckloop, hidden buttons and strong rechargeable battery which allows you to listen to your prerecorded files during your exams.
With hidden remote control buttons you can control your MP3 player and no one will know it. Built-in Next and Prev keys are easily hidden inside your sleeve. No one will ever know that you are listening to your prerecorded files.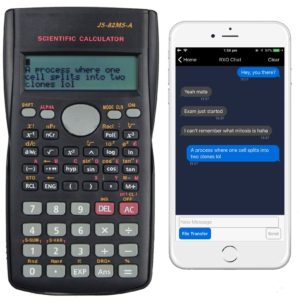 Use like a normal scientific calculator when desired
Connect to the Internet and read Search Engine Results for any query you like
Chat with an iOS or Android Device anywhere in the world
Chat with another Spy Calculator up to 20 meters away
Chat with a PC or Mac anywhere in the world
Switch mode to your favorite keyboard style. Chat away
Store up to 300,000 words of text notes and up to 30 files in the SPY TEXT Calculator for storage
Use the RXO Chat App to load text files onto the calculator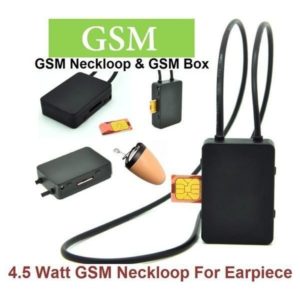 This device is basically a cellphone with call auto answering function and a mini wireless invisible speaker.
The GSM box used for safe and covert communication.
Quad-Band GSM Loop is powered by new 4 Watt audio amplifier and offers more powerful audio output.
GSM Module allows you to use neckloop device without any mobile phone. Just insert the SIM Card in the GSM device.
The most popular Spy Invisible Skin color Earpiece. It offers clear audio sound.
Earpiece has build-in mini receiver (speaker) and also has high quality and sensitive inductive coil.
The micro wireless invisible earpiece has an optimal anatomic design. Even inexperienced users could easily use it.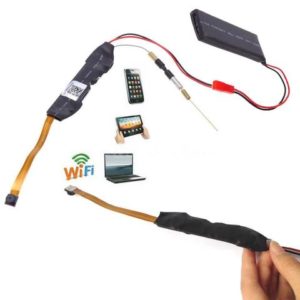 You will not find more reliable and smallest Button Camera. Buttons sold separately.
Excellent HD Button Camera. We setup Camera for you. You just need to configure your hotspot,
Supports iPhone/Android smartphones Wi-Fi direct monitoring
Supports iPhone/Android smartphones and PC/MAC direct monitoring via Internet
Supports 24-hour circulatory non-stop remote monitoring, with motion detection mode and all weather recording mode option.
Full HD 1080P video recording, the video compression format is H.264, with faster transfer rate, saving more memory.
Equipped with large-capacity lithium battery, the longer working hours
It's a multi-functional high-tech product, which works as the best anti-theft and evidence-gathering tool with strong concealment.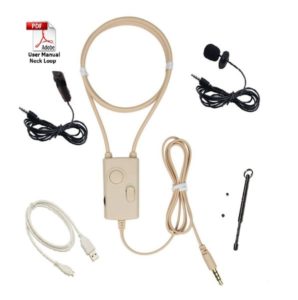 Why this voice and SOS communication kit is better than other devices on the market?
Audio device has best crystal clear sound.
Has External Microphone which could be hidden on your body or your sleeve. SOS signal could be heard by your assistant.
Has low power consumption and lasts 3.5-5 hours.
Does not have Bluetooth device, which could be spotted by other device and consumes more energy.
Works with any phone or MP3 player.
Automatically answers incoming phone calls!!!! You do not need to do a thing. This feature will be explained in detail.
4 x Earpieces do not require any battery and it's not possible to hear them from outside.
It has very sensitive microphone. Use it when it safe for you only!!!
On top of it the wireless headset mini earpiece kit could be used with any MP3 player.
It could be used with any Cell Phone with 3.5 mm jack or 2.5 mm jack and any MP3 player. You can buy 3.5mm jack to 2.5 jack adapter in accessories section.
This device easily lasts 9+++ hours on a single 9V battery!
The Signal button can be put under your toe or in your sleeve. When you press the beep button, a beep tone is sent to your partner over the phone, no matter where they are in the world it is perfect for situations when you can't talk or whisper. Use the Covert Signal button to signal – for example, one tap for YES, two taps for NO. Please click here to hear SOS beep. So you are in full control of your exam! At the same time you can use High Gain External Microphone and hide it in your sleeve or anywhere on your body. This device is good for Oral exams and for written Exams.
Our Shirts with Spy Button Cameras are unique products which made individually.
When sizing up your shirt please allow loose fit for your gadgets discreet positioning. For your safety your shirt will not look like on photos and will be made based on one of these three technologies as per your needs and preferences:
CHEST BUTTON CAMERA POSITIONING IS SUITABLE FOR TAKING PHOTOS FROM A BOOK or TEXT SHEET
IN-SLEEVE BUTTON CAMERA POSITIONING IS SUITABLE FOR TAKING PHOTOS FROM A PC MONITOR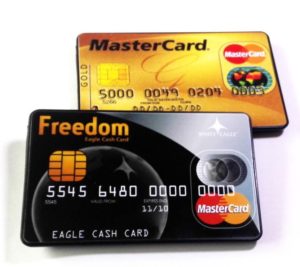 GSM BOX is basically a cellphone with call auto-answering function and wireless invisible speaker.
It could be also used with your cellphone as a Bluetooth Device. In this case you do not need any SIM CARD.
The GSM Card Module used for safe and covert communications
Quad-Band GSM Card & Bluetooth Box now is powered by new 4 Watt audio amplifier and now offers more powerful output audio signals.
GSM Module allows you to use device independently without mobile phone. Just insert a SIM Card in device.
The most popular Spy Invisible Skin Earpiece. After use it you can enjoy advantages of stable micro speaker, clear audio voice output.
Earpiece has build-in mini receiver (speaker) and also has high quality and sensitive inductive coil.
The micro wireless invisible earpiece has an optimum anatomic design. It allows inexperienced users easily use it.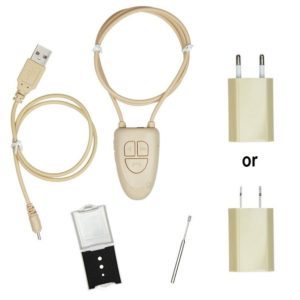 The amplified Bluetooth neck loop is equipped with 3.5 Watt amplifier, MUTE function and SOS Button.
Use Up/Down Arrow keys to increase or decrease volume.
Mute button allows you easily cut off audio output when you do not need it. After pressing the mute button no signal will be transmitted to earpiece and phone conversation is still online. SOS function helps you to send signal without saying a word. For example, Please click here to hear SOS signal. The radius of magnetic field created by inductive coil is approx 35cm. You should wear the neck loop around your neck.
If invisible earpiece is within magnetic filed, you will always hear clear sounds. Please note that you can also buy upgraded PRO earpiece, with better sound quality.
Specifications:
– Compatible with any phone model which has the Bluetooth function, including Iphone, Android and etc
– between the base of the neck and the ear there is no wire
– phone can be placed at a maximum 10 meters distance from the Bluetooth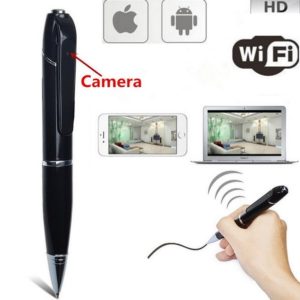 Innovative and affordable Wi-Fi spy pen hidden camera gadget. This stylish pen is a regular working pen which features a built-in WiFi micro covert camera that captures HD video, audio and pictures.
With its WiFi real-time monitoring capabilities – this pen is ideal for spying, home/store security, meetings recording, baby monitoring, courses, covert recording needs, nanny cam, and much more. The hidden camera pen can also be used as a portable USB storage device.
Specifications:
High quality videos recording in HD resolution 1,280*720p
Advanced H.264 video compression technology
Supports local recording to a Micro SD card (up to 32GB, not included)
Easy remote access without requiring any networking knowledge
WiFi network connection & functions
Built-in rechargeable battery for up to 30 minutes of recording per charge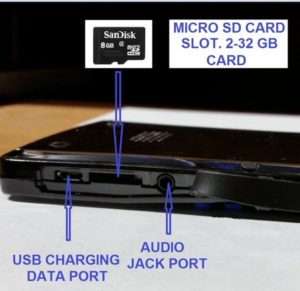 The calculator is like any other SCIENTIFIC calculator but it has powerful hidden features. You press only one button and it transforms from the calculator to a book reader, allowing you to check your secret notes. Calculator has fast text scrolling speed so you can write down your notes in a second. The Magic Calculator also allows you to set text brightness. You can choose between 4 different text brightness modes. Magic calculator has emergency button. If you press this button it will eject you from the text and will bring back to Calculator mode. Also it will lock all other buttons, and to unlock the calculator you need to know special combination of buttons so it impossible to unlock it for any other person.
The calculator has 4GB of built in memory, so it could be used as removable Storage Disk.
You can store photos, videos, music, and record your speech on it.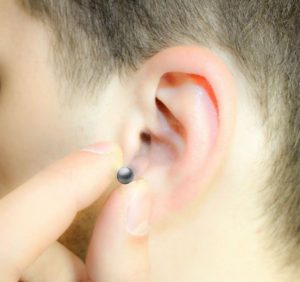 Louder than ordinary standard Earpieces plug!
Invisible Spherical Wireless earpieces are our premium amplified headsets which allow you to hear voices clearer and much clearer than the ordinary headphones included to each set. They are compatible with all of our models including MP3 set. They are made from special padded skin-friendly material, which provides compact fit into the ear, the sound is louder for up to 1.5 times compared with our ordinary earpieces.
Notice: These earpieces are an accessory to our different models, and the package only includes two earpieces without the module neck-loop, microphone. These have to be ordered separately.
Why this Earpiece kit special and unique?
This earpiece is unidirectional, not like other earpieces and sold only bywww.topspygadgets.com
So sound transmitted only if the spherical ball touches your ear drum. 100% that nobody can hear it. No any goes outside of the ear canal. This unique feature will greatly enhance your safety.