Description
Our newest product in 2022 is an inductive MP3 player. Small and strong inductive MP3 player with interchangeable inductive neckloops (not included)! You can play files from your TF / Micro SD memory card (not included) without anyone knowing.
MP3-Player-with-Foot-Button-controls-INSTRUCTION-MANUALS Rev.1
An inductive MP3 player is a great solution for hidden listening to prerecorded files. MP3 player consists o hidden buttons and  battery connector and SD card slot and USB port  and  3.5 mm Audio Jack slot and 3 foot control buttons.
YOU CAN CONNECT TO THIS MP3 PLAYER ANY OF YOUR FAVORITE NECKLOOPS WITH 3.5 MM JACK
OR BUY ONE OF OUR NECKLOOPS:
With hidden remote control buttons you can control your MP3 player and no one will know it. Built-in Next and Prev keys are easily hidden inside your sleeve. No one will ever know that you are listening to your prerecorded files.
The inductive coil  of our neckloops creates a magnetic field and drives receiving coil inside an invisible earpiece which must be located within magnetic field.The radius of magnetic field created by inductive coil is approx 30cm.
You should wear the neckloop around your neck, Mp3 player on your chest (hanging on the neckloop), and hidden buttons for control somewhere on your body where you can easily press them.
Please note, mp3 player has 3.5mm jack. This jack should be used for normal headphones or our Neckloops with 3.5 mm Jack.
                Button controlled MP3 Player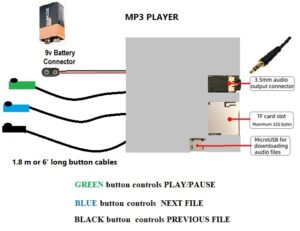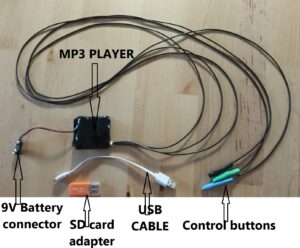 Product Description:
MP3 player  is a smart voice playback module developed independently by exampassed.net
Supports MP3.WAV decoding;
64Mbits(8M bytes)flash storage on board
Audio files could be downloaded by micro USB cable ( included)
Or via micro SD card reader.
Recommended SD card size 8 Gb to 32GB
Playing time is 9 hours.
Product Characteristics:
1.Support MP3.WAV decoding.
2.Support sampling rate (KHz):8/11.025/12/16/22.05/24/32/44.1/48.
3.24bit DAC output,support dynamic range 90dB,SNR 85dB.
supply voltage DC: 9V battery (not included)
Uploading audio files to SD card directly by micro USB cable or Via SD card reader.
Maximum number of Audio files limited only by the size of SD card
GREEN button controls PLAY/PAUSE
BLACK button controls PREVIOUS FILE
BLUE Button controls NEXT FILE
Audio Files should be named 00001, 00002,00003 and so on….
Exampassed.net   and topspygadgets neckloops compatible with the MP3 player:
Package content:
1 x MP3 Player with 3 hidden  control buttons
1x USB Cable
1 x SD Card Reader
Exampassed.net   and topspygadgets neckloops compatible with the MP3 player:

SOLD SEPARATELY !!!
Our hints for recording audio files

OCR and Text to Speech audio file recording mode described in this Manual
Instruction on How to prepare audio notes and paly them secretly during your exam
Manual audio file recording
test
Always use  external microphone, speak slowly and clearly, with such a speed that you can write all of the words on your exam. At the beginning of the recording you always have to read the title of your literature, so that you can easily search preferred text on mini MP3 player.
Click Here and Download Audacity recording program: